【農經系演講公告】本系將於11月22日(五)14:20-16:20邀請Dr. Catheryn Khoo-Lattimore蒞臨演講!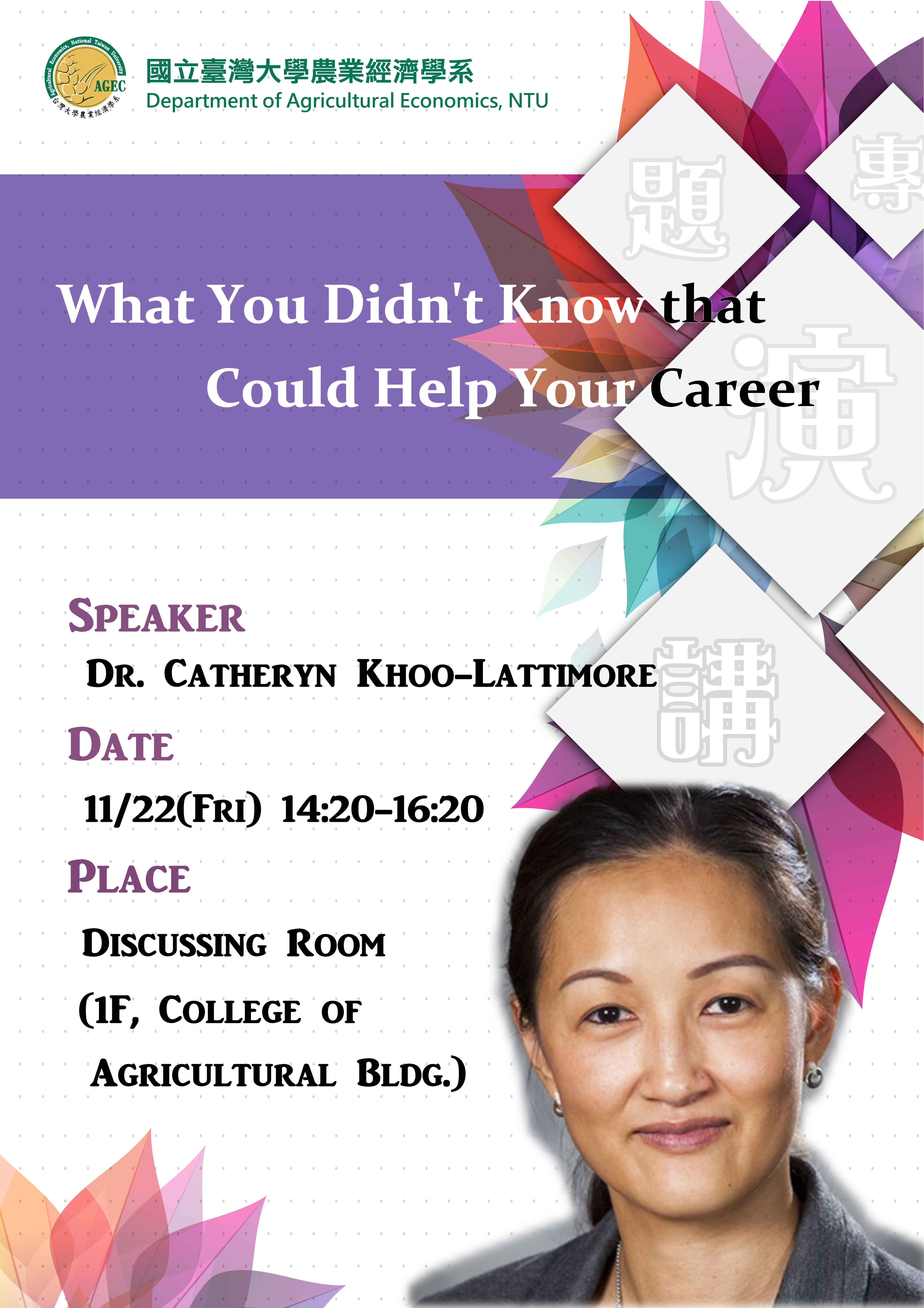 頭銜:Senior Researcher & Lecturer
學校:Dept of Tourism, Sport & Hotel Management, Griffith Institute for Tourism
簡歷:期刊主編:Editor-in-Chief, Tourism Management Perspectives (SSCI)
       組織創辦人: Proud Founder of Women Academics in Tourism (WAiT)
       聯合國世界觀光組織專家:Regional Field Expert (Asia), UNWTO 2019 Global Report on Women in Tourism

Dr Catheryn Khoo-Lattimore has a PhD in Marketing and is an international speaker and master trainer in tourism. She is also the Editor-in-Chief of Tourism Management Perspectives, the UNWTO Regional Field Expert for the 2019 Global Report on Women in Tourism, Advisory Board Member of the International Tourism and Investment Conference (www.itic.co.uk) and Founder of the Women Academics in Tourism (WAiT) group.  Most recently, she created the "Humanising the Academy tourism conference which specialises in creating academic conferences that challenge conventional academic systems. She has expertise in feasibility studies and qualitative research methodologies using photographs, virtual texts, observations, focus groups and in-depth interviews. She recently completed the 2019 Australia's Queensland Tourism Industry Council Digital Workforce Plan; a 2019 Tourism Strategy report for the Western Downs Regional Council in Australia; a market research for Abbey Musuem Australia; a hospitality product development workshop for a Bhutanese resort; and a marketing training for a Nepali hotel. A future project will see her in Ecuador and Mexico working with female tourism entrepreneurs to develop their digital competencies. Her work has been rigorously critiqued by international researchers and published in over 50 top tourism journals and 6 books. She teaches tourism business management at Griffith University, ranked second in the world for their tourism and hospitality programs.  She speaks five languages and learning her sixth, and is very happy to connect on LinkedIn.